Despite it's launch feeling like yesterday, Chapter 2, Season 6 is coming to end very soon, with Season 7, otherwise known as Season 17, releasing this June. Like with Season 5 and 6, a lot of information is under wraps, so a lot of the speculation here consists of rumors and leaks, leaving a lot of room for theorizing. Will the Fortnite Crew loading screens hint at anything? Will we see fantastical kingdoms, or will an intergalactic force pose a threat to the Island? All of this and more are answered in this guide.
Season 7 Release
Season 7 is slated for release on June 8, 2021, with no live event in sight to finish off the current season. A similar thing happened during the final month of Season 5, only for the event to be announced a literal week before Season 6 went live. It's unlikely that Season 6 will be extended, seeing how Epic is currently testing 17.10, the second update of Season 7, which means that testing for Season 7 is complete.
Possibilities
Outer Space?
A recent leak came about of unreleased quests, presumably for Week 11, 12 or 13, the only weeks left in Season 6. Here are the quests, courtesy of @FortTory on Twitter.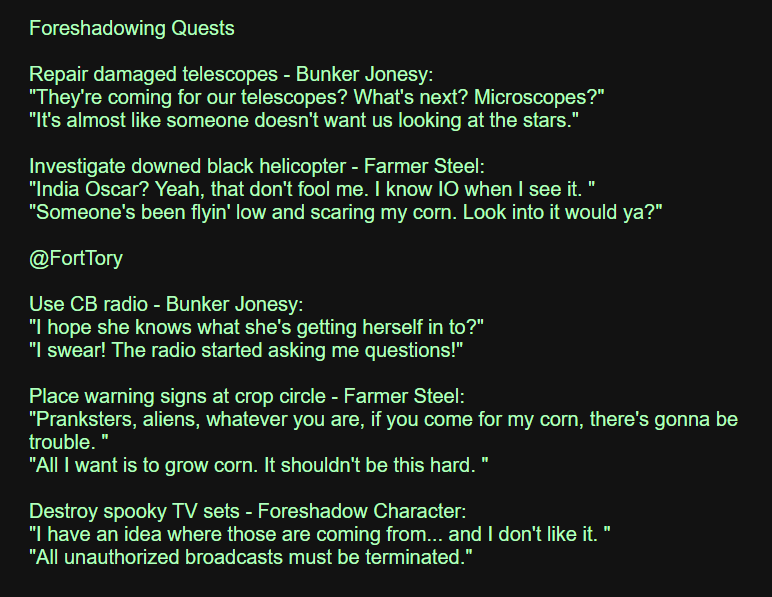 Let's analyze. These quests are from conspiracy nutbags, particularly Bunker Jonesy and Farmer Steel. They seem to be concerned about an intergalactic threat, as well as IO. One of the quests, in fact, tells us to destroy TV sets in fear of some sort of broadcast. Towards the end of Chapter 1, Season 3, meteors were found in the sky and TVs began showing warning broadcasts, akin to what might happen within the last few weeks of Season 6. Plus, the quests are literally called "Foreshadowing", so it's rather evident that these quests are hinting towards the theme of Season 7.
It's also possible that it could be the Seven trying to communicate with the Foundation, who is currently trapped inside the Spire, keeping reality in-tact. Could we see another member of the Seven for Season "Seven"?
Futuristic Season?
Every Tuesday, members of the Fortnite Crew have been given a loading screen, which tell a connected story. On May 5, players were rewarded with the Bearallel Universe loading screen, which depicted Cuddle Team Leader getting rifted out of the Fortnite Island and ending up in a futuristic, cyberpunk-esque city.
On May 11, players were rewarded with the Bear Beginnings loading screen, which portrays Cuddle Team Leader working with cybernetic technologies in order to create an Iron Man-esque suit of armor.
On May 18, players were rewarded with the Cuddle Charge! loading screen, which showed off the complete version of Cuddle Team Leader's Gundam suit, dodging and fighting what appear to be stealthy characters on futuristic motorbikes. While the series of loading screens are probably just teasing June's Crew Pack, there's a chance they're also hinting at the theme of Season 7.
Chapter 1 Connections And The Return Of The Cube?
It's rather evident that each Fortnite season is mirroring their Chapter 1 counterpart, but it's becoming more and more apparent.
Season 1: Both seasons had a Halloween event, started in October, and focused on a fresh start.
Season 2: No real connections.
Season 3: Both seasons had a space outfit in the Battle Pass.
Season 4: Both seasons focused on superheroes, intergalactic threats and a scientist from another reality.
Season 5: Both seasons had deserts, worlds colliding, and reality breaking down.
Season 6: Both seasons saw the creation of a new landmark where the Zero Point was, wolves, an animal in the Battle Pass, and corrupted characters.
Chapter 1, Season 7 saw the arrival of an iceberg, which collided with the southeast part of the map. Now, it's unlikely that we'll see an iceberg due to the fact that Season 17 (For clearance) will run through the summer, but it is possible that other elements from Chapter 1's Season 7 might make a comeback. We could see a medieval castle like we did in Season 7, we could see aerial vehicles, we could even see Marshmello return for another gig, just like in Season 7.
Secret Outfit
Every season since Chapter 2, Season 2 (Season 12) has seen a collaboration outfit taking the role of the secret outfit. Season 12 had Deadpool, 13 had Aquaman, 14 had Wolverine, 15 had Predator and 16 had Neymar Jr. According to Twitter, we could be seeing a Wonder Woman outfit release in Season 17.